Dating back to the early 1900's, the original Kreamer Brothers started their business in a building that required hitching posts for teams of horses, rather than parking lots for cars!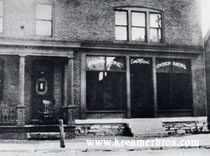 Our History
In 1915, brothers William and Wilbur Kreamer started the business in Stewartstown, PA. Learning of a better business opportunity in Annville, the brothers moved the business to its present location in 1927. Today, two generations later, the Kreamer family continues William and Wilbur's original commitment to service and integrity.
Today
Expanding on the solid foundation of the past, Kreamer Bros. Furniture has grown and evolved to be a leader in country furniture in South Central PA. Our historic, pre-Civil War building makes the perfect setting to display country sofas, country dining furniture, country bedroom furniture and country accessories. While we specialize in country furniture, we also have plenty of other styles for our non-country friends! Make the trip to Annville – the Kreamer family will do their best to provide you with their down-home customer service.